Call Us Now (408) 514-1230
Plumbers In Saratoga
Our expert team of Saratoga Plumbers is trusted by residential and commercial clients across the city.
PLUMBERS IN SARATOGA: FAST AND PROMPT SERVICE
If you are currently facing a plumbing issue that you cannot seem to resolve on your own, we are here to help. Our team provides professional assistance to residential and commercial customers throughout Saratoga and the nearby areas. You can trust our expertise to deliver high-quality plumbing service in Saratoga at a reasonable price, ensuring your complete satisfaction.
Call Now (408) 514-1230 
Emergency Plumbers In Saratoga
As a leading plumbing company in Saratoga we have plumbers available 24/7 that can cater to all your plumbing requirements
Water Heaters
Call our licensed plumbers and forget about the worries of water heater repair in Saratoga. We complete repair and replacement services on all major brands of water heaters.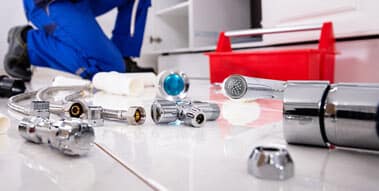 Sewer and Drains
Our expert plumbers bring the necessary tools and expertise for drain cleaning in Saratoga. Whether it is tree root problems or a blocked sink, our pros know what it takes to do it right.
Residential And Commercial Plumbing Services In Saratoga
Don't let plumbing problems ruin your day – especially when you're about to host a social gathering! A leaking sink can cause severe water damage if not addressed promptly. We understand the worry this can cause, but we've got you covered. Our team of Saratoga plumbers is available around the clock to provide professional assistance when you need us. Make your plumbing issues a thing of the past with our reliable service.
Our team of Saratoga emergency plumbers guarantees efficient service within an hour of your call. We don't just do quick fixes; we inspect and diagnose your plumbing problems to provide long-term solutions that prioritize your safety and comfort. Our friendly and professional plumbers will ensure everything is done right the first time. Contact us now to prevent recurring plumbing issues and enjoy hassle-free plumbing.
Licensed, Bonded, & Insured
Parts & Service Guarantee
No Extra Charge for After Hours
Experience, & Affordable Service
Fast & Outstanding Service
30 Years Experience
Searching for an Emergency Plumber In Saratoga?
Our plumbers are experienced, trained, licensed, and insured. Plumbing professionals at the right price and fast service. We guarantee it.
(408) 514-1230 
How are We Different from other Plumbing Professionals?
At Preferred Plumbing, our top priority is to quickly and effectively resolve any issues you may be experiencing with your plumbing system. We understand the inconvenience of dealing with backed-up drains, malfunctioning water heaters, and leaky toilets, so we strive to offer fast and reliable repairs without compromising quality. We aim to provide our valued customers with the most dependable plumbing services at affordable rates. Trust us to complete the job efficiently so you can return to your daily activities.
Choose our local plumbers in Saratoga confidently, knowing that we prioritize our clients and hold ourselves to high business standards. Our reliable services are trusted by many in both the residential and commercial sectors.
SAME DAY EMERGENCY SERVICE
We arrive within 60 minutes.
We charge genuine prices with no hidden charges.
UNSURPASSED CUSTOMER SERVICE
We don't cut corners and guarantee high-quality workmanship.

Full Drain Cleaning Service
Tell Us About Your Plumbing Issue
Our Saratoga local plumbers are experienced, trained, licensed, and insured. Plumbing professionals at the right price and fast service. We guarantee it.
Review Real Customer Feedback On:
San Jose - Fremont - Milpitas
Preferred Plumbing & Drain
48890 Milmont Dr. Ste 105 D
Fremont, CA 94538
San Jose: (408) 514-1230