Call Us Now (408) 763-8973
Plumbers San Jose
Our expert team of plumbers is trusted by residential and commercial clients across the city.
PLUMBERS IN SAN JOSE: FAST AND PROMPT SERVICE
Are you struggling with a plumbing problem for which you can't find a solution? We offer professional assistance to residential and commercial customers across San Jose and its surrounding cities. We provide all repairs at an affordable price and guarantee 100% customer satisfaction.
Call Us Any Time To Get
Best Services (408) 763-8973
Emergency Plumber
We have earned the reputation as a reliable and leading plumbing company in San Jose providing emergency services for all kinds of plumbing issues.
Water Heaters
Call our licensed plumbers and forget about the worries of water heater repair in San Jose. We complete repair and replacement services on all major brands of water heaters.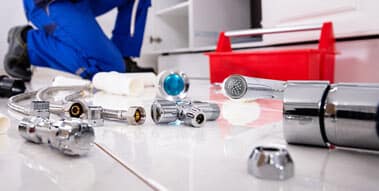 Sewer and Drains
Our expert plumbers bring the necessary tools and expertise for drain cleaning in San Jose. Whether it is tree root problems or a blocked sink, our pros know what it takes to do it right.
Residential And Commercial Plumbers In San Jose
Plumbing problems can be a nightmare. Imagine you have a dinner party and your kitchen sink starts to leak creating a mess. You can't leave it unattended. You try to tie a piece of cloth to stop the leak but the faucet breaks. Now, there's no way you can proceed without professional assistance. That's why our team of experts is available 24/7, even on weekends and holidays, without any extra charges.
We usually arrive at your doorstep within one hour. Our San Jose plumbers start by inspecting the problem because we don't just believe in making immediate repairs, we help you treat the problem so that it does not arise again.
Your safety and comfort are important to us. We always send friendly, trustworthy, and courteous plumbers who ensure that everything is completed professionally. Simply contact us and avoid the hassle of encountering recurring plumbing problems.
Licensed, Bonded, & Insured
Parts & Service Guarantee
No Extra Charge for After Hours
Experience, & Affordable Service
Fast & Outstanding Service
30 Years Experience
Tell Us About Your Plumbing Issue
Our plumbers are experienced, trained, licensed and insured. Plumbing professionals at the right price and fast service. We guarantee it.
(408) 763-8973
How are We Different from other Plumbing Professionals?
Our main goal is to fix your problem quickly so that you can resume your normal daily routine. We don't want you to struggle with a clogged drain or a dysfunctional water heater or a leaking toilet for an extended period of time.
Although our goal is to fix your problem quickly, we will never compromise our quality. Expect only the highest quality repairs at affordable pricing from Preferred Plumbing.
When you hire our local plumbers in San Jose, you can rest assured that you are making the right choice. We are the first choice of many residential and commercial clients because we uphold strong business values and give customers the top priority:
SAME DAY EMERGENCY SERVICE
We arrive within 60 minutes.
We charge genuine prices with no hidden charges.
UNSURPASSED CUSTOMER SERVICE
We don't cut corners and guarantee high-quality workmanship.
TELL US YOUR PLUMBING PROBLEM
No plumbing problem is too small or too big for our expert team of trained San Jose plumbers. Simply call anytime day or night and we will provide you with a free estimate.
Local San Jose Plumbers Service

Full Drain Cleaning Service
Tell Us About Your Plumbing Issue
Our local plumber San Jose are experienced, trained, licensed and insured. Plumbing professionals at the right price and fast service. We guarantee it.
Review Real Customer Feedback On:
San Jose - Fremont - Milpitas
Preferred Plumbing & Drain
48890 Milmont Dr. Ste 105 D
Fremont, CA 94538
San Jose: (408) 763-8973