We strive to be your preferred plumber. Our team of of expert plumbers are here to take care of all of your plumbing issues. We specialize in water heaters, garbage disposal repair and replace, clogged drains, leaky faucets, water leaks, pipe leaks and more. Whether it is a small issue or a large one, our team of local plumbing experts are here to help. Both reliable and professional, we are usually at your door in an hour or less. Our plumbing team proudly serves the Sacramento-Stockton-Modesto, East Bay, Contra Costa, and Merced areas. We can take care of any plumbing issue your home and business has.
With Preferred Plumbing & Drain, our plumbing experts are here to fix your problem, not to sell you a services you don't need. We are your trusted resource in Sacramento, Contra Costa, East Bay, Stockton, and Modesto. We never charge for the trip or travel, and no extra charges for the weekend or evenings. You approve the work and the job before we start.
We take our job seriously. We will usually be at your door in 60 minutes or less because we know that your time is valuable. Your plumbing issue is our top priority, and we want to make sure that you are 100% satisfied with our work.
If you need a plumber, Preferred Plumbing & Drain is your trusted Greater Sacramento, East Bay area, San Jose-Milpitas, and Stockton-Merced-Modesto emergency plumbers. We understand the issues that a plumbing problem can lead to. That is why we take every step possible to make ourselves available to our valued customers all day, every day. Whether you need to replace a water heater, burst pipe, unclog a drain, or repipe your home or business, we are here to help. Call today to schedule an appointment and free consultation with one of our local expert plumbers.
When do I need to call a Plumber?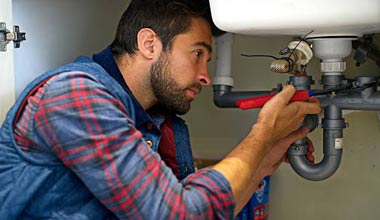 Our Plumbers have always been the first choice for professional, reliable residential plumbing services. Preferred Plumbing & Drain Plumbers has a team of dedicated residential plumbers that can handle any plumbing project in your residential home or commercial office. We have the most technologically advanced plumbing tools & equipment available. We treat every plumbing project like an emergency and never sacrifice quality. With over 60,000 residents serviced, our Plumbers know plumbing! Just read our testimonials & reviews. We are a top rated plumbing contractor on Google! Some of our most popular residential plumbing repairs include: drain cleaning, sewer repairs, drain field repairs, septic tank repairs, shower & bath repairs and clogged toilet repairs.
Each and every one of our Plumbers and plumbing technicians go through a thorough background check and are tested for expert plumbing skills and professionalism. Preferred Plumbing & Drain Plumbers are drug-free and we take pride in our high level of customer service, support, and customer education. Trust us with your plumbing problems today!
Tell Us About Your Plumbing Issue
Our plumbers are experienced, trained, licensed and insured. Plumbing professionals at the right price and fast service. We guarantee it.
Review Real Customer Feedback On: