Schedule Professional Water Heater Repair in Fair Oaks
Water heaters are essential to any residential or commercial property, and their malfunction can cause considerable inconvenience. The frustration of encountering cold water instead of the expected warmth can disrupt one's entire day and prompt a frantic search for a reliable plumber to fix the issue before causing further inconvenience.
However, there is a more reliable and efficient solution. Consider contacting Preferred Plumbing for exceptional water heater repair or replacement services and avoid the stress of endless online reviews. Our team of experts is equipped with the knowledge and experience to tackle any issue and restore comfort to your home or business.
For more than 17 years, Preferred Plumbing has been one of the most prominent plumbing companies in Fair Oaks. Our commitment is to offer our customers top-quality products and services. We take pride in attending to every detail, including when we receive your call for a water heater installation. Our expert team will quickly respond to your request and arrange a meeting at your convenience. We never rush our work and take full responsibility for our processes.
When Do You Need Water Heater Repair Fair Oaks?
As time passes, all heaters undergo natural wear and tear, necessitating consistent maintenance and repairs. You may notice early signs of deterioration, such as peculiar noises or leaks. However, homeowners sometimes neglect these symptoms and end up with a completely broken water heater that requires replacement. To avoid this costly outcome, it is highly recommended that you promptly contact a reputable water heater repair company in the Fair Oaks region.
Our expert technicians can repair and install all makes and models, whether an electric or gas water heater, a tank, or a tankless. We repair and install it professionally. With our services, you can rest assured that you will soon have a hot water supply throughout your home.
Fair Oaks Water Heater Repair Schedule an Appointment Today!
If you detect any leaks or unusual noises from your water heater, don't hesitate to call us for repairs. Moreover, if you are facing a shortage of hot water or longer waiting times for water to heat up, it's high time to schedule a professional inspection.
Our Fair Oaks water heater replacement plumbers are well-equipped to conduct a comprehensive evaluation and will discuss potential solutions with you after diagnosing the problem. If the repair is feasible, we'll provide you with a cost estimate for the necessary repair work. If it's beyond repair, we'll assist you in selecting a new one that caters to your specific requirements.
Our repair professional can fix water heater concerns efficiently. Also, we complete the task on the first visit, ensuring you don't have to wait for hot water. We advise replacement only when it is the last option and no repair work can fix your water heater.
Reduced Energy Bills: Newer water heaters rely on advanced technology. This means that they are more efficient. As a result, you save on energy and reduce your utility bills.
Cost-effectiveness: The cost of minor repairs can sometimes be more than that of a new water heater.
Better Temperature Regulation: A new water heater makes it easier for you to manage the temperature of the water.
Warranty: New water heaters bring renewed assurances. As a result, you save on the initial repair expenses.
If you're having issues with hot water in your home, it's important to schedule professional services from Preferred Plumbing & Drain. We offer quick and dependable services, and our skilled technicians will arrive promptly to assist you.
Is It Recommended to Install a Tankless Water Heater?
Tankless water heaters provide a highly efficient and space-saving solution for heating water on demand without needing a reservoir. With the ability to guarantee a consistent hot water supply for your home, these modern units offer significant advantages. While unsuitable for every circumstance or home, tankless water heaters are a smart choice for those who prioritize efficiency and convenience.
Tankless water heaters only heat water when needed, eliminating the need to maintain a large quantity of hot water.

Highly efficient systems that average 20-60% more efficiency than other models, resulting in cost-effectiveness over their lifespan.

Tankless water heaters are space-saving as they are small, freeing up space in your home. Are you uncertain whether a tankless water heater is the best option for your home? Call Us, and we will have one of our local plumbers drop by in 60 minutes or less.
Fair Oaks Water Heater Services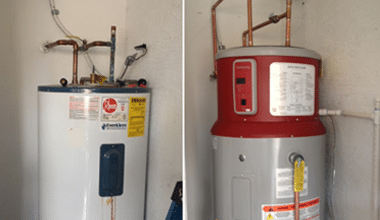 For The Best Water Heater Systems & Service In Fair Oaks
Our Fair Oaks plumbers are experienced, trained, licensed, and insured. Plumbing professionals at the right price and fast service. We guarantee it. For repair, replacement, or maintenance services, contact us today!
Review Real Customer Feedback On: