Gold River Water Heater Repair Service - 17 Years of Experience
Have you ever needed water heater repair services only to realize that your local repair company has already closed for the day? This can be both frustrating and risky for your home. Luckily, Preferred Plumbing & Drain is available to provide high-quality emergency water heater services 24/7. We strive to alleviate your stress and ensure your home is safe.
At Preferred Plumbing & Drain, we easily tackle big plumbing problems while keeping your space as neat and stress-free as possible. In addition, our expertise and commitment to adhering to laws and regulations ensure that you receive top-quality service that won't require any rework.
Our company upholds family values in every project, whether big or small. As one of the top plumbing companies in Gold River, we treat our clients like family and prioritize their satisfaction above all else. If you need sewer line repair, toilet repair, well service, or water damage restoration, please don't hesitate to contact us today to schedule your next appointment.
When Do You Need Water Heater Replacement In Gold River?
It depends on various factors, including the age of the water heater, its condition, and any recurring issues it may be experiencing. Here are some common scenarios when one might need to replace their water heater:
Age: Most traditional tank-style water heaters have a lifespan of around 8 to 12 years. If your water heater is nearing or has surpassed this age range, it may be time to consider a replacement, even if it's still functioning.
Inefficient Performance: If your water heater struggles to provide an adequate hot water supply or takes a long time to heat up, it could be a sign of wear and tear or sediment buildup. This can negatively impact energy efficiency and increase utility bills.
Frequent Repairs: If you find yourself calling for repairs frequently and the costs are increasing, investing in a new water heater might be more cost-effective than constantly repairing an aging unit.
Leaks or Corrosion: Visible leaks or signs of corrosion on your water heater are severe indicators of a problem. Leaking water can cause property damage, and pollution can lead to further issues, making replacement necessary.
Rusty Water: If you notice rusty or discolored water coming from your hot water taps, it could be a sign that the interior of your water heater tank is corroding, which often signals the need for a replacement.
Noises: Unusual noises such as popping, banging, or rumbling from the water heater may indicate sediment buildup or other issues warranting a replacement.
Safety Concerns: If your water heater poses safety risks, such as frequent pilot light outages or gas leaks, it is crucial to replace it promptly to avoid potential hazards.
Gold River Water Heater Replacement - Round The Clock Service
As your trusted emergency water heater service provider in Gold River, we offer 24/7 availability to quickly address your water heater needs and minimize potential property damage. Our experienced team will work efficiently to restore comfort and save money on costly repairs. Contact us today to experience our exceptional water heater services.
Our team of expert plumbers specializing in water heater replacement is fully equipped to evaluate your situation comprehensively. After diagnosing the issue, we will discuss all possible solutions in detail. If a repair is possible, we will provide you with a detailed cost estimate for the required work. In case the water heater cannot be repaired, we will assist you in selecting a new one that best suits your needs and requirements.
Gold River Water Heater Installation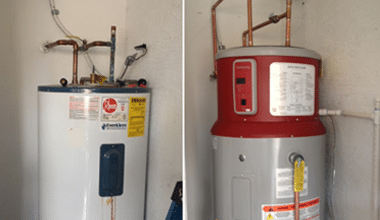 For The Best Water Heater Service In Gold River
Our Gold River plumbers are experienced, trained, licensed, and insured. Plumbing professionals at the right price and fast service. We guarantee it. For repair, replacement, or maintenance services, contact us today!
Review Real Customer Feedback On: