Lincoln Water Heater Repair Service - 17 Years of Experience
Our team of skilled professionals is well-versed in diagnosing and fixing various water heater issues. We bring efficient solutions to restore your hot water supply, from repairing leaking tanks to addressing faulty heating elements. If it's time for a new water heater, we offer various energy-efficient options to suit your needs and budget.
With our reliable water heater installation service in Lincoln, you can count on a seamless and hassle-free process. We'll help you choose the right water heater for your home's demands and ensure a proper installation for optimal performance. Don't let water heater problems disrupt your daily routine - rely on our expert services to keep your home comfortable and functional.
Our company upholds family values in every project, whether big or small. As one of the top plumbing companies in Lincoln, we treat our clients like family and prioritize their satisfaction above all else. If you need sewer line repair, toilet repair, well service, or water damage restoration, please don't hesitate to contact us today to schedule your next appointment.
When Do You Need Water Heater Replacement In Lincoln?
It depends on various factors, including the age of the water heater, its condition, and any recurring issues it may be experiencing. Here are some common scenarios when one might need to replace their water heater:
Age: Most traditional tank-style water heaters have a lifespan of around 8 to 12 years. If your water heater is nearing or has surpassed this age range, it may be time to consider a replacement, even if it's still functioning.
Inefficient Performance: If your water heater struggles to provide an adequate hot water supply or takes a long time to heat up, it could be a sign of wear and tear or sediment buildup. This can negatively impact energy efficiency and increase utility bills.
Frequent Repairs: If you find yourself calling for repairs frequently and the costs are increasing, investing in a new water heater might be more cost-effective than constantly repairing an aging unit.
Leaks or Corrosion: Visible leaks or signs of corrosion on your water heater are severe indicators of a problem. Leaking water can cause property damage, and pollution can lead to further issues, making replacement necessary.
Rusty Water: If you notice rusty or discolored water coming from your hot water taps, it could be a sign that the interior of your water heater tank is corroding, which often signals the need for a replacement.
Noises: Unusual noises such as popping, banging, or rumbling from the water heater may indicate sediment buildup or other issues warranting a replacement.
Safety Concerns: If your water heater poses safety risks, such as frequent pilot light outages or gas leaks, it is crucial to replace it promptly to avoid potential hazards.
Lincoln Water Heater Replacement - Round The Clock Service
Emergencies don't follow a schedule, but when the do, our expert water heater service in Lincoln is always ready to respond. Whether it's the middle of the night or a weekend, you can rely on our 24/7 emergency services to swiftly address your water heater problems. We understand the urgency of a malfunctioning water heater and the potential property damage it may cause, which is why we prioritize prompt and efficient service.
Our team has the latest tools and technology to handle any emergency. From burst tanks to gas leaks, we have the expertise to diagnose and fix issues precisely. Rest assured that your safety and comfort are our top priorities.
When you reach out to us for emergency services, you'll be greeted by friendly and knowledgeable staff who will guide you through the process. Our technicians will arrive at your doorstep fully prepared to handle the problem. With our reliable and fast response, you can put water heater emergencies behind you and trust us to restore peace of mind in your home.
Lincoln Water Heater Installation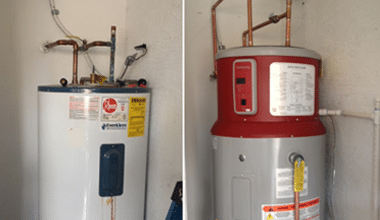 For The Best Water Heater Service In Lincoln
Our Lincoln plumbers are experienced, trained, licensed, and insured. Plumbing professionals at the right price and fast service. We guarantee it. For repair, replacement, or maintenance services, contact us today!
Review Real Customer Feedback On: