Rocklin Water Heater Repair Service - 17 Years of Experience
At Preferred Plumbing & Drain, we pride ourselves on handling significant plumbing issues effortlessly while ensuring your space remains tidy and stress-free. Our expertise and unwavering commitment to complying with all laws and regulations guarantee that you receive top-quality service without rework.
Choosing a licensed, bonded, and insured emergency plumber serving a vast region ensures you have the finest professionals working in your home. However, settling for just any provider is unnecessary when you can hire an established company with a proven track record and a long list of satisfied customers. Review testimonials and ask as many questions as needed until you feel completely at ease.
Our family values are at the core of every project we undertake, regardless of its size. As one of the leading plumbing companies in Rocklin, we treat our customers like family, making your satisfaction our top priority. So, whether you require sewer line repair, toilet repair, well service, or water damage restoration, trust us to deliver reliable and professional solutions. Schedule your next appointment with us today.
When Do You Need Water Heater Replacement In Rocklin?
We fully understand that even a minor issue with your water heater can disrupt your entire day. But worry not, as our reliable and experienced professionals are here to resolve your problem swiftly. With a team of highly skilled technicians boasting a proven track record of successfully addressing a wide range of water heater concerns and problems, you can trust us to handle any issue you might be facing and get you back to your everyday routine without delay.
Whether you have an electric or gas water heater, a traditional tank, or a tankless model, our adept technicians can handle repairs and installations for all types. Our services are carried out with the utmost professionalism, ensuring you have a dependable and consistent hot water supply throughout your entire home. With us at your service, you can rest easy knowing that your water heater needs are fully covered. Say goodbye to water heater worries and experience hassle-free days with Preferred Plumbing & Drain.
Rocklin Water Heater Replacement - Round The Clock Service
As your trusted emergency water heater service in Rocklin, we prioritize your comfort and property safety by offering 24/7 availability to swiftly address your water heater needs. Our experienced team is dedicated to working efficiently to restore comfort and save you money on potentially costly repairs. Experience our exceptional water heater services by contacting us today.
When it comes to water heater replacements, our skilled plumbers are well-equipped to conduct a thorough evaluation of your system. After diagnosing the issue, we will discuss potential solutions with you, ensuring complete transparency in the process. Should a repair be feasible, we'll provide a detailed cost estimate for the necessary work. However, if the water heater is beyond repair, rest assured that we will assist you in selecting a new one that perfectly caters to your specific requirements. With us by your side, you can count on reliable solutions at any hour of the day or night. Trust Preferred Plumbing & Drain for all your emergency water heater service in Rocklin.
Rocklin Water Heater Installation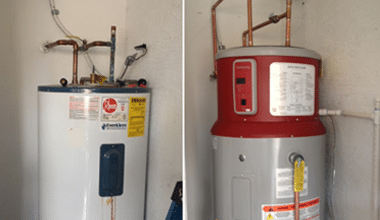 For The Best Water Heater Service In Rocklin
Our Rocklin plumbers are experienced, trained, licensed, and insured. Plumbing professionals at the right price and fast service. We guarantee it. For repair, replacement, or maintenance services, contact us today!
Review Real Customer Feedback On: