Schedule Professional Water Heater Repair in Sacramento
Water heaters undergo constant wear and tear. This leads to the need for repairs and regular maintenance. The unit can show early signs of deterioration. These include signs like strange sounds, leaks, and more. Most homeowners tend to ignore these early signs of water heaters. As a result, they have no choice but to purchase a new water heater. Therefore, it is suggested that you get in touch with professional water heater repair Sacramento. 
We are an expert team of technicians who can repair and install water heaters of all makes and models. Whether it is an electric or gas water heater, a tank, or a tankless water heater, we repair and install it professionally. With our services, you can rest assured that you will soon have a supply of hot water throughout your home. 
When Do You Need Water Heater Repair Sacramento?
If you see leakage or hear strange sounds, you must know that it is time for repair. Moreover, if there isn't sufficient hot water or the time taken to heat water has increased, you must schedule a professional inspection. Our team brings the required equipment for a thorough evaluation. After we diagnose the problem, we discuss the solution with you. If the problem is repairable, we provide an estimate for the same. If the water heater is damaged beyond repair, we help you choose a new water heater as per your requirements. 
Our repair professional can fix water heater concerns efficiently. Also, we complete the task on the first visit, making sure that you don't have to wait for hot water. We advise replacement only when it is the last option and no repair work can fix your water heater. 
What Are The Benefits of a New Water Heater?
Every water heater has a lifespan. With time, the frequency of repairs increases. Even if you maintain the appliance in the best possible way, you will require a new one after 10 to 20 years. It is not advisable to frequently spend on minor repairs. This is because it turns out to be costlier than the price of a new unit in the long run. Here are some benefits of a new water heater:
Reduced Energy Bills: Newer water heaters rely on advanced technology. This means that they are more efficient. As a result, you save on energy and reduce your utility bills. 
Cost-effectiveness :The cost of minor repairs can sometimes surmount to more than the price of a new water heater. 
Better Temperature Regulation: A new water heater makes it easier for you to manage the temperature of the water. 
Warranty: New water heaters bring renewed warranties. As a result, you save on the initial repair expenses. 
If hot water has started becoming a problem in your house, you need to schedule professional services from Preferred Plumbing & Drain. We provide prompt and reliable services. Our technicians will visit you at the earliest. 
Sacramento Water Heater Services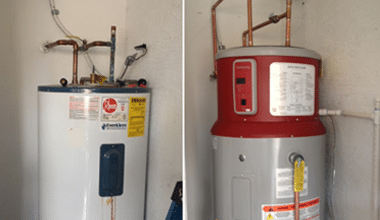 Tell Us About Your Plumbing Issue
Our Sacramento plumbers are experienced, trained, licensed and insured. Plumbing professionals at the right price and fast service. We guarantee it.
Review Real Customer Feedback On: