WATER HEATER INSTALLATION IN SAN JOSE BY EXPERTS YOU CAN TRUST
Does the hot water in your bathroom run out in the middle of a shower? Are your energy bills more than expected? Do you see leaks in your water heater? Maybe it is time to book a service for water heater repair in San Jose before it gets too late.
A water heater has a limited lifespan. Using it even after it has undergone excessive wear and tear will only result in frequent repair costs. An incorrectly installed water heater can also have hazardous effects like a fire, scalding temperatures, or water damage. That's why you should only trust our professional plumbers for water heater installation in San Jose. A new water heater installation will ensure that you always have hot water in your home.
CALL PREFERRED PLUMBING & DRAIN FOR WATER HEATER REPAIR IN SAN JOSE
If you are unsure of what's wrong with your water heater, you need professional plumbers in San Jose to help you with the appliance. Our water heater repair services aim at delivering guaranteed workmanship. We arrive at your doorstep and get the job done right on the first visit. Regardless of whether your water heater is leaking from the top, making strange sounds, supplying foul-smelling water, or having rusted pipes, we can tackle it all.
And if a replacement is what you need, we help you find the right water heater as per your consumption, bathroom size, energy source, and budget. Our team of licensed, certified, trained, and insured plumbers understand all kinds of water heaters - tank or tankless; electric or gas.
WHY DO YOU NEED A NEW TANKLESS WATER HEATER?
The cost of new water heater installation San Jose depends on several factors such as the type and size of the water heater, your current plumbing configuration, and more. But when you weigh the benefits of a new water heater, you will realize that it is a smart decision:
Energy-efficiency: Traditional water heaters consume energy even when not in use since they continue to heat water. As you upgrade to a tankless unit, water is heated as per your requirement cutting down on energy costs significantly.
Long-lasting: Tankless units don't have standing water. As a result, the chances of rust issues are low. Moreover, they have a sturdier body, making them last more than the traditional models.
Size: The newer models of water heaters are smaller in size. This adds to the convenience and lets you easily mount them on walls.
A new water heater also doesn't demand frequent repairs, service, and maintenance. The warranty is renewed. As a result, you needn't worry about the repair expenses. 
San Jose Water Heater Repair Services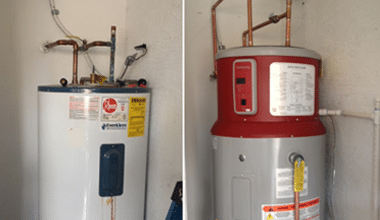 Tell Us About Your Plumbing Issue
Our plumbers are experienced, trained, licensed and insured. Plumbing professionals at the right price and fast service. We guarantee it.
Review Real Customer Feedback On: