Professional And Efficient Water Heater Repair In Stockton
We provide complete water heater maintenance, repair, and replacement. Our trained plumbers in Stockton can handle all makes and models. Whether it is a gas, electric, or tankless water heater, we will not disappoint you. When you feel that there is a lack of hot water in your residential or commercial premises, we are the experts to get in touch with.
Water heaters help to produce hot water in your home for showers, dishes, and laundry. However, just having a water heater isn't enough. You need the right water heater to be able to fulfill the requirements of your family. We are trained and skilled at water heater repair in Stockton. Our team brings top-grade equipment to provide a professional and timely service that meets the demands of all clients.
Before you book the service for water heater repair in Stockton, it is vital to know what type of water heater you have. The most popular two types of water heaters are as follows:
Traditional water heaters: These are generally installed in the basement or laundry room. The unit has a heating mechanism at the bottom or inside the tank.
Tankless water heaters: A tankless water heater is energy-efficient. It uses a set of coils that become hot when you turn on the unit. The water temperature rises when it passes through the coil. As a result, it provides hot water instantly on-demand.
When Do I Need a New Water Heater?
If you have been using a water heater for 8 to 10 years, the chances of the need for a replacement are high. In many cases, an old water heater starts demanding frequent repairs. The repair costs might be higher than the cost of replacement. Moreover, water heater technology is also changing. A new water heater might just be the answer to your requirements for a hot water supply for showers, laundry, dishes, and more.
Some common signs indicate the need for a new water heater. These include discolored water, a leaking tank, unusual sounds once the unit is turned on, and a lack of hot water from your faucets and showers. We suggest the right water heater after taking into consideration your needs and requirements. These factors include the source of energy, the size of your bathroom or laundry room, the required supply of hot water, and the budget, amongst others.
We also recommend that you schedule professional drain cleaning in Stockton once a year. This activity will help to avoid the need for costly repairs in the future. Get in touch with our professional team for all kinds of plumbing requirements.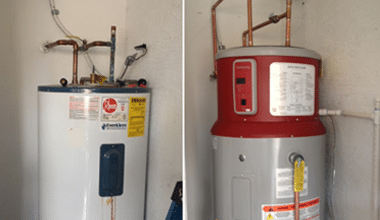 Tell Us About Your Plumbing Issue
Our plumbers are experienced, trained, licensed and insured. Plumbing professionals at the right price and fast service. We guarantee it.
Review Real Customer Feedback On: