Tankless Water Heater Installation, Replacement and Repair
Plumbing problems can disrupt your life and the everyday activities you do. We offer 24/7 emergency plumbing repairs and replacement services. We are specialists in plumbing services in Greater Sacramento, East Bay area, San Jose-Milpitas, and Stockton-Merced-Modesto areas. Don't take any chance when it comes to your plumbing. We are a team of qualified and trained plumbers who are ready to help, anytime. Whether you have Leaky pipes, a backed-up toilet, broken water heaters, blocked drains, or sewer line blockages, we are experts at finding the source of the problem and repairing issues of any size.
Let us get your disrupted life back to normal. We have the best and most affordable emergency plumbers for all your plumbing needs in the Fresno area. We never charge extra for service at weekends, nights, or holidays.
Are You Looking For Quality Tankless Water Heater Repair Services?
If you want to save your money and cut down on the water heater energy bills, never delay in calling water heater repair experts. The longer you wait to reach to professional water heater repair company, the more damage your water heating element will experience. Call us to the rescue and get your tankless water heater fixed in no time. Keeping up with your water heater needs can help extend the life of your water heater.
Our water heater experts are trained and qualified to assess problems of different types and all makes of water heater units. Schedule a visit from us if you have repair and maintenance needs for electric, gas-powered, power vent, and tankless water heaters.
Benefits of a New Water Heater
In some cases, you may be able to choose between repairing an older water heater and installing a brand-new system. While both service options will reliably heat the water of your Greater Sacramento, East Bay area, San Jose-Milpitas, and Stockton-Merced-Modesto home (or else we wouldn't recommend them!), there are several benefits to opting for a completely new water heater.
Energy Savings – Modern water heaters utilize more efficient technology and tank insulation to heat water with less energy
Cost – Depending on the age of your water heater, a repair may cost more than the system is really worth
Warranty Coverage – We back our Fresno water heater replacements with impressive manufacturer warranties
When you run out of hot water or your water heater breaks you need a trustworthy, expert plumber at your side. Preferred Plumbing & Drain has the expert water heater plumbers that can repair or replace your water heater.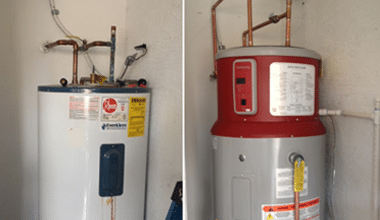 Tell Us About Your Plumbing Issue
Our plumbers are experienced, trained, licensed and insured. Plumbing professionals at the right price and fast service. We guarantee it.
Review Real Customer Feedback On: