Local Water Heater Repair In Oakland - Call Us Today
Imagine you are standing in the shower, and the water turns cold suddenly. Running out of hot water on a cold winter morning is the last thing any homeowner wants to face. But don't worry, with experts from Preferred Plumbing & Drain, you won't have to wait for too long. We have a proven track record of water heater repair in Oakland. Whether it is a tank or tankless heater, a gas or electric model, we are the professionals to hire. Get in touch with us today to schedule a local plumber appointment.
When you trust professional plumbers in Oakland, you can expect high-quality services from trained and skilled experts. We take care of maintenance, service, replacement, repair, and water heater installation in Oakland.
Facing Water Heater Troubles?
Like any other appliance, water heaters also have a limited life. If your water heater is over ten years old, there are chances that you will start feeling changes in water temperature or hearing strange sounds as you turn on the appliance. It is not a good idea to delay the repair or replacement of the water heater. Our experts can help you identify the problem and provide the most cost-effective solution.
We repair the heating element, the thermostat, or any other problem to fix the water heater. However, if a replacement is the only option, we help you choose the right water heater. We discuss your consumption, energy source, space, and budget to decide on a model that is suitable for you. 
Benefits of a New Water Heater
Water heaters are used to obtain hot water in the dishwasher, laundry machines, and shower causing regular wear and tear. If your water heater demands maintenance and repair now and then, it is a good idea to replace it. Here are some of the benefits of new water heater installation in Oakland:
Increased Efficiency: Newer water heater models are more efficient. As you upgrade, you use less energy to heat water in the tank.
Lower Fuel Costs:A new water heater consumes lesser energy. As a result, your utility bills reduce and you save money. 
Increased Supply of Hot Water: A new water heater will ensure that you have a long-lasting supply of hot water and there's no waiting for the water in your faucet to heat up.
Space Saving: Today's water heaters have better sizes and take up less space. As a result, your bathroom or kitchen walls don't look stuffed.
An improperly installed water heater can pose dangers. We carefully install the new water heater with a secured gas line and earthquake straps. We set the thermostat to help you save on energy costs and also check for proper venting.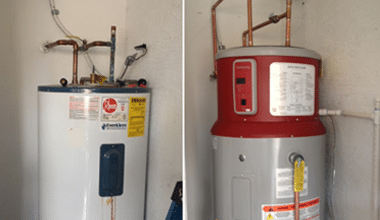 Tell Us About Your Plumbing Issue
Our plumbers are experienced, trained, licensed and insured. Plumbing professionals at the right price and fast service. We guarantee it.
Review Real Customer Feedback On: