Call Us Now (408) 514-1230
Plumbers In Los Altos
Our expert team of Los Altos Plumbers is trusted by residential and commercial clients across the city.
PLUMBERS IN LOS ALTOS: FAST AND PROMPT SERVICE
At Preferred Plumbing & Drain, we pride ourselves on exceptional customer service. Our highly skilled Los Altos Emergency Plumbers team understands the importance of your time, so we never leave our valued customers waiting. We offer a free estimate before beginning any work and ensure complete transparency in our pricing – no hidden fees, ever. Trust us to handle all of your plumbing needs with efficiency and integrity.
Call Now (408) 514-1230 
Emergency Plumbers Los Altos
As a leading plumbing company we have plumbers available 24/7 that can cater to all your plumbing requirements
Water Heaters
Call our licensed plumbers and forget about the worries of water heater repair in Los Altos. We complete repair and replacement services on all major brands of water heaters.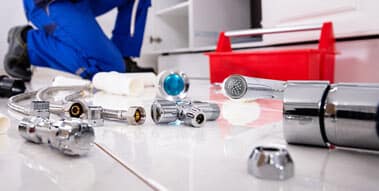 Sewer and Drains
Our expert plumbers bring the necessary tools and expertise for drain cleaning in Los Altos. Whether it is tree root problems or a blocked sink, our pros know what it takes to do it right.
Residential And Commercial Plumbing Services In Los Altos
Do you need expert plumbing services for your home or business? Look no further than Preferred Plumbing & Drain. Our team of skilled local plumbers in Los Altos provides exceptional service to both residential and commercial clients throughout the area. Our commitment to quality work and utmost professionalism make us the preferred choice for all your plumbing needs. Trust us to deliver top-notch results every time.
We understand how frustrating even a minor plumbing issue can be. It can ruin your day and throw off your schedule. But with a dependable professional by your side, you can easily bypass the problem. Whether it's a faulty faucet, low water pressure, a leaky toilet, a clogged sink, icy showers, or any other plumbing concerns, we can resolve them seamlessly. Thanks to our extensive experience, we've successfully addressed a variety of client demands. So let us handle your plumbing troubles so you can return to your routine.
Licensed, Bonded, & Insured
Parts & Service Guarantee
No Extra Charge for After Hours
Experience, & Affordable Service
Fast & Outstanding Service
30 Years Experience
Searching for an Emergency Plumber In Los Altos?
Our plumbers are experienced, trained, licensed, and insured—plumbing professionals at the right price and fast service, guaranteed!
(408) 514-1230 
How are We Different from other Plumbing Professionals?
Our company has established a commendable track record of providing reliable and trustworthy plumbing services to the community for over 17 years. Our team's extensive expertise, commitment to prompt service, and professional approach distinguishes us from other providers. We are pleased to offer complimentary estimates, 24/7 emergency plumbing services in Los Altos, and unparalleled customer support. We invite you to entrust us with any plumbing issues you may encounter and experience a seamless and stress-free service.
Opt for a licensed, bonded, and insured emergency plumber that serves a vast region and guarantees you get the best plumbers working in your home. However, don't settle for just any provider when you can hire an established company with a proven track record and satisfied customers. Read testimonials and ask as many questions as you need to feel comfortable.
SAME DAY EMERGENCY SERVICE
We arrive within 60 minutes.
We charge genuine prices with no hidden charges.
UNSURPASSED CUSTOMER SERVICE
We don't cut corners and guarantee high-quality workmanship.

Full Drain Cleaning Service
Tell Us About Your Plumbing Issue
Our Los Altos local plumbers are experienced, trained, licensed, and insured. Plumbing professionals at the right price and fast service. We guarantee it.
Review Real Customer Feedback On:
San Jose - Fremont - Milpitas
Preferred Plumbing & Drain
48890 Milmont Dr. Ste 105 D
Fremont, CA 94538
San Jose: (408) 514-1230