Call Us Now (408) 514-1230
Plumbers In Menlo Park
Our expert team of Menlo Park Plumbers is trusted by residential and commercial clients across the city.
PLUMBERS IN MENLO PARK: FAST AND PROMPT SERVICE
Preferred Plumbing & Drain is dedicated to delivering outstanding service safely and hygienically, even when tackling complex plumbing issues. We make it our priority to comply with all laws and regulations, ensuring that you receive the highest quality service with no need for extra work. Our team provides complimentary estimates, 24/7 emergency plumbing services in Menlo Park, and exceptional customer care - that is worth experiencing.
Call Now (408) 514-1230 
Menlo Park Emergency Plumbers
As a leading plumbing company we have plumbers available 24/7 that can cater to all your plumbing requirements
Water Heaters
Call our licensed plumbers and forget about the worries of water heater repair in Menlo Park. We complete repair and replacement services on all major brands of water heaters.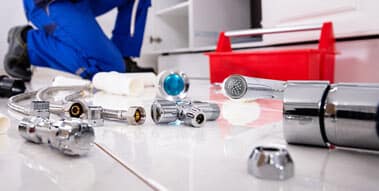 Sewer and Drains
Our expert plumbers bring the necessary tools and expertise for drain cleaning in Menlo Park. Whether it is tree root problems or a blocked sink, our pros know what it takes to do it right.
Residential And Commercial Plumbing Services In Menlo Park
Do you ever need professional heating, cooling, or plumbing assistance only to discover that your local repair company has already closed up shop for the day? Not only can this prove frustrating, but it also increases the risk of severe home damage.
Preferred Plumbing & Drain is where you can find the best plumbers in Menlo Park who are available 24/7 and dedicated to providing skilled and caring service. Choosing Preferred Plumbing & Drain ensures you won't risk a poor repair and can expect top-quality plumbing services.
Regardless of the project size, our family values are at the heart of every job. We treat our customers like family and prioritize your satisfaction above all else. Contact us today to schedule your next appointment for sewer line repair, toilet repair, well service, or water damage restoration.
Licensed, Bonded, & Insured
Parts & Service Guarantee
No Extra Charge for After Hours
Experience, & Affordable Service
Fast & Outstanding Service
30 Years Experience
Searching for an Emergency Plumber In Menlo Park?
Our plumbers are experienced, trained, licensed, and insured—plumbing professionals at the right price and fast service, guaranteed!
(408) 514-1230 
How are We Different from other Plumbing Professionals?
Plumbing issues can be a daunting and risky experience for property owners. Although water leaks are common occurrences, some situations require the immediate attention of an emergency plumber in Menlo Park to prevent costly damages. Taking swift action to protect your property and avoid unnecessary hazards is essential.
We've been proud community members for over 17 years, providing top-notch plumbing services you can always depend on. We pride ourselves on our expertise, promptness, and professionalism, which has set us apart. Plus, we're always happy to offer free estimates and 24/7 emergency plumbing services in Menlo Park. Our customer care is exceptional, so you can trust us to handle all your plumbing needs efficiently. Let us give you a hassle-free plumbing experience today!
SAME DAY EMERGENCY SERVICE
We arrive within 60 minutes.
We charge genuine prices with no hidden charges.
UNSURPASSED CUSTOMER SERVICE
We don't cut corners and guarantee high-quality workmanship.
Local Menlo Park Plumbers

Full Drain Cleaning Service
Tell Us About Your Plumbing Issue
Our Menlo Park local plumbers are experienced, trained, licensed, and insured. Plumbing professionals at the right price and fast service. We guarantee it.
Review Real Customer Feedback On:
San Jose - Fremont - Milpitas
Preferred Plumbing & Drain
48890 Milmont Dr. Ste 105 D
Fremont, CA 94538
San Jose: (408) 514-1230